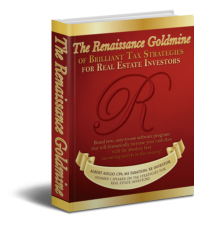 Make sure you are getting all the tax deductions you are entitled to! Order this complete #1 best-selling tax resource on our website!
The new Renaissance Goldmine leaves no stone unturned and covers the full gamut of real estate tax-saving strategies:
Use the right entities to save you the most taxes; is least audited by IRS; and best protects you from lawsuits, with the least cost & complexity.
Save thousands! How beginning investors can deduct Real Estate Investing education, travel, other expenses, even if they have not yet closed on an investment property.
Keep the IRS out of your life with the most POWERFUL Audit-Proofing Strategies to reduce or even eliminate your chances of an audit (despite their increase). Save not just taxes, but also costly penalties, compound interest, high legal fees (thousands!), plus your valuable time (Priceless!)
Double and triple your depreciation deductions with Al's dynamic componentizing (cost segregation) system, including little-known legal techniques to fully deduct real property components all in one year for big savings, without expending any cash, without IRS exposure. This alone will enable you to pocket thousands of dollars in tax savings!
Avoid the 80% of inept CPA's who give wrong costly advice, expose you to audits and charge high fees.
The Renaissance Goldmine system also gives you access to:

Q & A Helpline via eMail

Free Tax Return Review

Goldmine Trained CPA Referral Program
Here is what one real estate investor had to say about the course:
The Goldmine is the most comprehensive well put together real estate course I have seen. It has saved me over $4,500 this tax year already. I'd say that's a good return on my money. Better than even my best real estate deals. You really break it down so the average guy can understand and sort it out. Al, I can't thank you enough!
-- John Zangari, Investor, Coral Springs, FL
"Al Aiello is a consummate professional who KNOWS HIS STUFF!!!! I HIGHLY recommend that anyone serious about this business cannot afford to be without his expertise. It's worth tens of thousands of dollars to your bottom line!"

Lou Brown, 30+ year Investor & National Speaker
Plus with the full blown comprehensive money saving tax resource you will receive a complete bonus course. All total, you will receive 22 audio CDs and nearly 30 hours of training with a total value of over $6,000 offered exclusively for Street Smart® FindWiz™ visitors for only $997!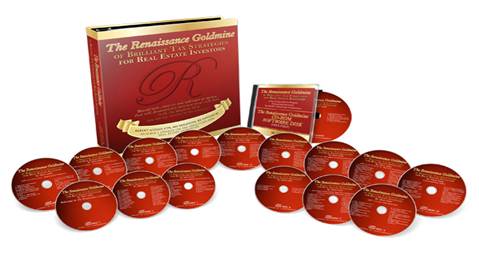 Order the complete Renaissance Goldmine Brilliant Tax Strategies system including the complete set of 22 CDs NOW!
Call 1-800-578-8580 to order...
You will also receive bonuses not available when ordered elsewhere!